CNN Belief Blog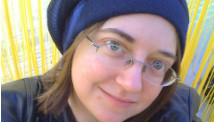 Editor's note: Christine Hoff Kraemer is managing editor of the Patheos.com Pagan Channel and an instructor in Theology and Religious History at Cherry Hill Seminary.
By Christine Hoff Kraemer, Special to CNN
(CNN) — As Halloween approaches, Americans rush to malls and shopping centers, credit cards in hand. Children are outfitted as ghosts, Disney characters, princesses and superheroes, while adults dress to impress with "sexy" witch, vampire or pirate garb. Cookies shaped like jack o'lanterns fly off the shelves along with bag after bag of packaged candy.
In American culture, Halloween has mostly become a reason for a good party.
So it may surprise you to learn that the roots of Halloween are religious. In fact, for Americans who practice contemporary Paganism, Halloween is one of the two most important religious holidays of the year. Known as Samhain (pronounced SOW-un), the holiday is modeled after the ancient Celtic…
View original post 673 more words